Outdoor Maintenance Equipment Sales
Sunset Outdoor Supply Offers Superior Products and Customer Service
At Sunset Outdoor Supply, we offer our customers personalized sales assistance and services to meet their exact needs. Our dedicated and experienced staff can help you find the right equipment for the job. We offer free demonstrations of superior Ventrac tractors and products at our store in Morgantown, WV. If one of our customers can't make it in during our regular business hours, that isn't a problem. We can schedule demonstrations after business hours at our location or at our customer's location. We schedule demonstrations by appointment on weekends as well.
Ventrac Outdoor Maintenance Equipment: Made in the USA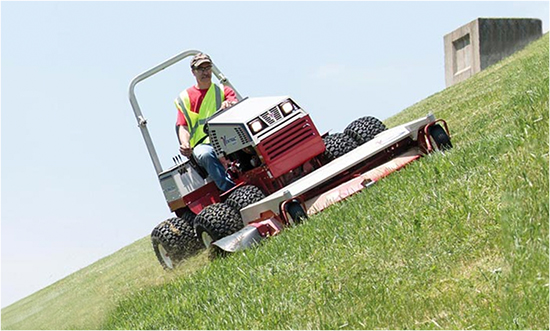 Ventrac outdoor maintenance equipment is so versatile that it's great for everyone. They are not just for large open spaces, but made for smaller and tighter areas as well. If you own a business, like landscaping, then these tractors are perfect for you. They are great for estate owners and home owners. Even places like churches, hospitals, parks, town municipalities, shopping malls, universities, etc. can use this equipment. All the machinery, equipment, parts, and accessories we sell at Sunset Outdoor Supply are made in the USA.


The Solution to Mowing Dangerous Slopes and Hillsides
Mowing hillsides and slopes can be extremely dangerous. Ventrac is your solution to this problem. Our Ventrac products are world-renowned for their safety and stability on steep slopes. Ventrac tractors are nearly impossible to roll over. They are all-wheel drive and come equipped with downhill brakes. Their wide stance increases safety and stability on hillsides. When these tractors are faced with uneven terrain, their frame will pivot in the center to keep contact with the ground at all times. If you are in need of a snow removal solution, then Ventrac has got you covered. Their size makes them perfect for sidewalks. They reduce the damage done to landscaping that bigger equipment causes. They have the ability to make tighter turns and offer much better visibility. With their heated cabs, you can stay warm and dry. If you are clearing light to medium snowfalls, their power broom can quickly clear a path. Ventrac's snowblowers have the ability to move up to 4,500 pounds of snow. Whether you are mowing hillsides, slopes, or brush, clearing leaves, or doing snow removal, Ventrac equipment is your solution.
The Best Tractor With a Flexible, Fully Articulating & Oscillating Frame
Ventrac equipment gives you much better advantages than any other tractors and equipment. Ventrac tractors have center oscillating and articulating frames that make them much more gentle and flexible than other tractors. All four of their tires keep contact with the ground at all times which gives them an advantage on slopes and rough terrain. They have the very best turning capabilities. There are over 30 different attachments for Ventrac equipment and by using them with the Ventrac Mount System, changing the attachments can be done within minutes without heavy lifting and tools. The controls on these powerful machines are easy to use. The steering on them is effortless and they have fingertip controls. They are comfortable because of their fully adjustable suspension seats.
Boss Snow Plows and Sand & Salt Spreaders for ATVS, Trucks, UTVs
At Sunset Outdoor Supply, we sell a full line of Boss snow plows and equipment. We have plows for ATVs, UTVs, and trucks, as well as and sand and salt spreaders. All Boss Snowplows are easy to use and are extremely durable. They can be used by homeowners, business owners, landscapers, and many more. Boss Snowplow is known for their world class snow and ice removal equipment. They strive to make their customers lives easier.
A Huge Inventory of Ventrac Replacement Parts, Accessories, & Attachments
Sunset Outdoor Supply has a larger and more stocked inventory than most other Ventrac dealers. We keep a huge inventory of replacement parts, attachments, and accessories so we can eliminate downtime for our customers. We answer our customer service calls 24/7 because we know how important this machinery is for our customers and that for most of them this is their livelihood.
We guarantee you won't find another outdoor supply company more knowledgeable than the staff at Sunset Outdoor Supply. We put our customers' needs above everything else. We stand behind our equipment and products 100%. Please stop in or give us a call today for more information or to set up a demonstration on our tractors and products: (304) 777-2194.