Landscaping and Outdoor Property Maintenance Equipment
Sunset Outdoor Supply – Superior Products and Customer Service
At Sunset Outdoor Supply, we offer our customers personalized sales assistance and services to meet their exact needs. Our dedicated and experienced staff can help you find the right equipment for the job. We offer free demonstrations of superior Ventrac tractors and powerful TORO lawn mowers at our store in Morgantown, WV. We can schedule demonstrations at our location or at our customer's location. We schedule demonstrations by appointment on weekends as well.
Ventrac, TORO & Boss Outdoor Maintenance Equipment Made in the USA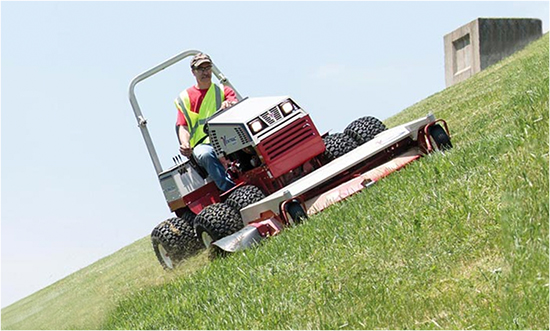 Ventrac outdoor maintenance equipment is so versatile that it's great for everyone. They are not just for large open spaces, but made for smaller and tighter areas as well. If you own a business, like landscaping, then these tractors are perfect for you. They are great for estate owners and home owners. Even places like churches, hospitals, parks, town municipalities, shopping malls, universities, etc. can use this equipment. From Ventrac and TORO to Boss, Sno-Way, Snowex, and more, all the machinery, equipment, parts, and accessories we sell at Sunset Outdoor Supply are made in the USA.


Mowing Dangerous Slopes and Hillsides? We Have the Solution!
Mowing hillsides and slopes can be extremely dangerous. Ventrac is your solution to this problem. Our Ventrac products are world-renowned for their safety and stability on steep slopes. Ventrac tractors are nearly impossible to roll over. They are all-wheel drive and come equipped with downhill brakes. Their wide stance increases safety and stability on hillsides. When these tractors are faced with uneven terrain, their frame will pivot in the center to keep contact with the ground at all times.
If you need a snow removal solution, then Ventrac has you covered. Their size makes them perfect for sidewalks. They reduce the damage done to landscaping that bigger equipment causes. They have the ability to make tighter turns and offer much better visibility. With their heated cabs, you can stay warm and dry. If you are clearing light to medium snowfalls, their power broom can quickly clear a path. Ventrac's snowblowers have the ability to move up to 4,500 pounds of snow. Whether you are mowing hillsides, slopes, or brush, clearing leaves, or doing snow removal, Ventrac equipment is your solution.
The Best Tractor With a Flexible, Fully Articulating & Oscillating Frame
Ventrac equipment gives you much better advantages than any other tractors and equipment. Ventrac tractors have center oscillating and articulating frames that make them much gentler and more flexible than other tractors. All tires keep contact with the ground at all times which gives them an advantage on slopes and rough terrain. They have the very best turning radius. There are over 30 different attachments for Ventrac equipment and by using them with the Ventrac Mount System, changing the attachments can be done within minutes without heavy lifting and tools. The controls on these powerful machines are easy to use. The steering on them is effortless and they have fingertip controls. They are comfortable because of their fully adjustable suspension seats.
Legendary Lawn Mowers for Homeowners
Whether you have a small job that requires precision or have acres upon acres to maintain, TORO equipment offers the perfect, easy-to-use mower for all your turf maintenance needs. Homeowners appreciate TORO's reliable startups, powerful performance, and heavy-duty construction that is built to last. TORO offers years of dependability to knock out any yard clean-up job with ease, comfort, and smart features designed to simplify residential yard care.
Smart Landscaping Equipment Choice for Pros
Commercial turf maintenance professionals prefer TORO equipment for unbeatable fuel economy and lightning-fast performance. This line offers amazing time and labor savings. TORO features intuitive smart design and delivers an exceptional return on investment for enhanced productivity and profit season after season, year after year. The large one-gallon tanks on TORO's commercial walk-behind mowers allow you to get more done without repeat refueling, while the foldable operator platform on TORO's professional stand-on mowers can convert to a walk-behind with ease for maximum versatility and space saving during job-to-job transport.
Best Zero Turn Commercial Lawn Mowers
Don't miss TORO's zero-turn mowers for a quality cut with tough design features designed to handle any commercial job. TORO's impact-resistant high-strength steel construction and mowing blades allow confident operation with unparalleled comfort provided by an adjustable shock-absorbing suspended operator platform with deck sizes from 48" to 96". Whether mowing one lawn or 12, one acre or 200, TORO makes achieving a healthy, beautiful result easier than you ever imagined possible.
Boss Snow Plows and Sand & Salt Spreaders for ATVS, Trucks, UTVs
At Sunset Outdoor Supply, we sell a full line of Boss snow plows and equipment. We have plows for ATVs, UTVs, and trucks, as well as and sand and salt spreaders. All Boss Snowplows are easy to use and are extremely durable. They can be used by homeowners, business owners, landscapers, and many more. Boss Snowplow is known for their world class snow and ice removal equipment. They strive to make their customers lives easier.
A Huge Inventory of Ventrac & TORO Replacement Parts, Accessories, & Attachments
Sunset Outdoor Supply has a larger and more stocked inventory than most other Ventrac and TORO dealers. We keep a huge inventory of replacement parts, attachments, and accessories so we can eliminate downtime for our customers. We know how important this machinery is for our customers and that for most of them this is their livelihood.
Contact Our Sales Department Sunset Outdoor Supply
We guarantee you won't find another outdoor supply company more knowledgeable than the staff at Sunset Outdoor Supply. We put our customers' needs above everything else. We stand behind our equipment and products 100%. Please stop in or give us a call today for more information or to set up a demonstration on our tractors, lawn mowers, and products: (304) 777-2194.